Home Inspections – No Surprises
We are happy to see more real estate professionals are encouraging home buyers to invest in a home inspection before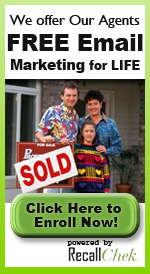 they finalize  any home purchase. We are also seeing more real estate professionals encouraging home sellers to consider have a home inspection before they list the house. As a real estate professional, you understand when it comes to real estate surprises are not a good thing. 
A better informed buyer who has learned about the home up front can move forward with greater confidence and peace of mind. As a seller, a pre-listing inspection, helps the sale move faster with fewer surprises as the closing nears. As the real estate professional you benefit from more efficient transactions with less chance for unpleasant, and sometimes costly, post-closing problems.
With every Home Inspection home buyers receive, at no extra cost a '90 Day Home Inspection Warranty' and 'RecallChek'; the first service in Canada for consumer appliance recalls, to check for dangerous flaws in home appliances.